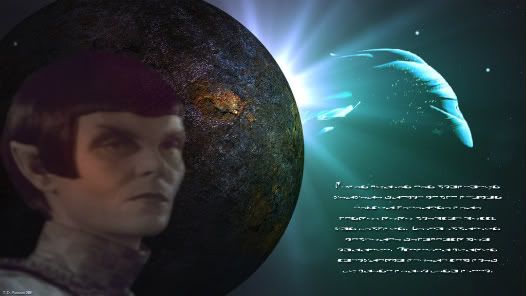 Title:
Ink and Waterstains
Author name:
oparu
Artist name:
touchdownpossum
Media Link (if applicable):
book covers here
and
Romulan awesomeness here
Word Count:
31,394
Fandom:
Star Trek: the Next Generation, Star Trek: Voyager
Rating:
Teen (implied sex)
Main Characters and/or pairings:
Beverly Crusher/Kathryn Janeway, Deanna Troi/Will Riker, Tuvok, Gretchen Janeway
Genre:
Space curtain fic
romance/fluff/adventure
Summary:
After
the near disaster at Deep Space 5
Admiral Kathryn Janeway is offered a choice between a lateral change in authority or reassignment to
Deep Space 6
, the latter is more interesting but it requires asking Beverly to give up a prestigious place at Starfleet Medical. Kathryn struggles with her decision and Beverly with Kathryn's delay in telling her. Once they arrive in their new home, they find a host of new challenges, most noticeably, the Romulans next door.
Warnings:
none
Author's Notes (if any):
set in (my pet) post-Nemesis universe where Beverly and Kathryn are married and expecting a child. This follows and (vaguely) mentions some of the events in
Uncharted
and
the (fluffy) stories that follow.
huge thanks to
leyenn
and
sophia_gratia
for being my cheerleaders when I needed them, and
touchdownpossum
for making such lovely covers. Well done my marsupial friend!
(
book covers and links
Collapse
)